I'm taking a break from recipes today to share five Budget Friendly Kitchen Updates that will make you love your kitchen without going broke.
We bought our house just over two years ago now which is crazy, I feel like we just moved in.
BUDGET FRIENDLY KITCHEN UPDATES
Thank you to Lowe's for partnering with me on today's post and providing inspiration for my upcoming kitchen updates!
I already shared with you our bathroom update and living room update, but next on our to-do list is the kitchen. We've actually done a few updates already that were easy swaps and spacing them out a bit keeps them totally affordable.
The helpful people at Lowe's (seriously, I remember coming home after our first visit and tweeting about how impressed I was; everyone I encountered was genuinely nice and helpful) will gladly guide you in these upgrades during their up to 40% off kitchen and bath event that's running through March 23rd.
Let's run down some of the projects we've already completed and what is coming up in the near future:
SINK & FAUCET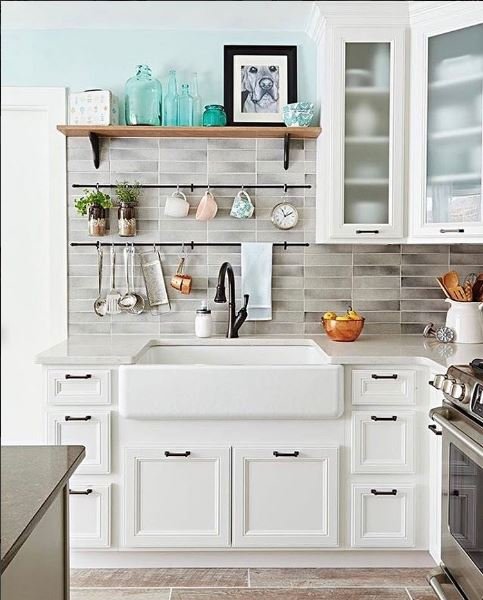 The first thing we did was swap out the old ceramic divided sink with a large stainless steel sink and new faucet. We opted for a touchless faucet and it's so nice! Just a tap to turn it on which is great when you have messy hands.
APPLIANCES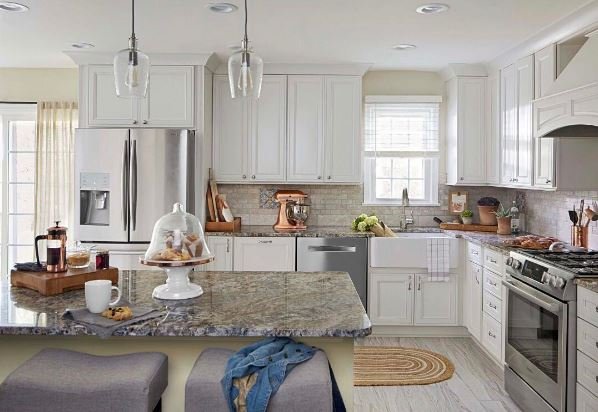 Next, we moved the side-by-side refrigerator that came with the house (how do people fit anything in those freezers?! There's not nearly enough room for my cookie dough stash) to the garage and opted for a stainless steel model with french doors and freezer on the bottom. We also got rid of the dishwasher (that may have been older than me…) and put in a stainless steel model. The last appliance to update is the stove – my baby. The only reason we haven't done this one yet is we plan to switch from electric to gas. I.can't.wait.
TILE BACKSPLASH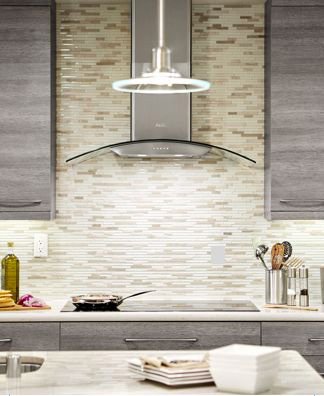 Still on our to-do list is to add a tile backsplash. Our kitchen currently doesn't have one at all so at least we don't have to remove it! I'm really liking the look of tile that goes all the way up the wall.
COUNTERTOPS & FLOORING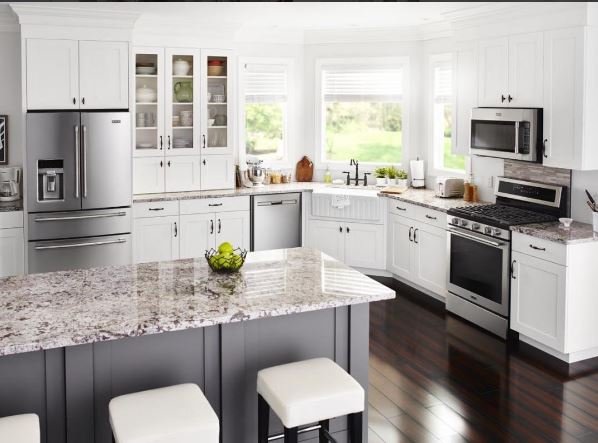 We currently have old laminate countertops which, while durable, are ugly. They're a tan/brown/blah color and you can't even tell when they're clean or dirty. I can't wait to replace them. The tile floor also happens to match. Ugh. Laminate has come a long way in the past years so it's not out of the question, but the color has to go.
PAINTED CABINETS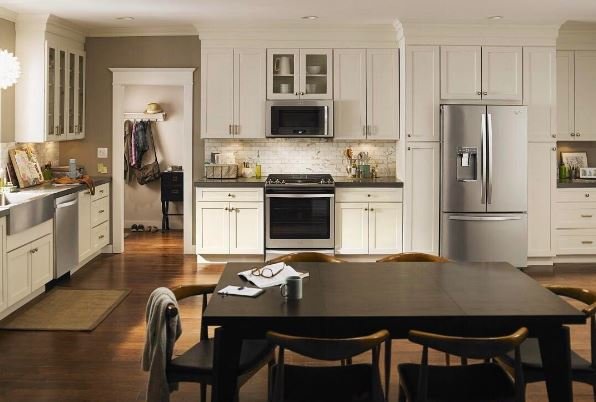 Our kitchen came with oak cabinets that are actually really nice BUT I hate the color (wood). We plan to paint them and update the hardware to revamp the look of the kitchen without fully replacing them.
So, there you have it. Our budget friendly kitchen updates that, especially when spaced out, were affordable, easy, and made/will make a huge difference in the look of our kitchen.
Think we'll finish the rest of the updates before Baby #2 arrives? I sure hope so!
We'll definitely be checking out the Lowe's kitchen event – we have until March 23rd so wish us luck!
This is a sponsored post written by me on behalf of Lowe's.
Maybe you'll like…
Bathroom Before & After Pictures


Living Room Before & After Pictures