Halloween and desserts are two of my favorite things so I am excited to share over 30 Halloween dessert recipes with you today! They are so fun, spooky, and most importantly: delicious. They are PERFECT for Halloween!
I love Halloween. Not gory, scary Halloween, but fun & whimsical Halloween. The decorations at Target and TJ Maxx get me every year. I feel like it's slightly early, but I can't help myself.
The parties, the food, the costumes…it's all so much fun.
Naturally, this means there are lots of Halloween recipes in our house throughout the fall season. But most importantly: there are lots of Halloween dessert recipes flooding the kitchen.
I decided to share some of our favorites with you. You'll find general Halloween dessert recipes as well as mummy dessert recipes, ghost dessert recipes, zombie dessert recipes, and so many more fun options to choose from!
I had a hard time narrowing down my favorites – there are thirty ideas and I could have kept going.
Ready? Scroll down below for the full list of easy Halloween dessert ideas!
Fun & festive Halloween Dessert Recipes
Halloween Cream Cheese Brownies by Persnickety Plates: It's only natural I start with a few of my own, right? These brownies are so moist, sweet, and they look so fun!
Halloween Chocolate Tunnel Cake by Persnickety Plates: The only thing better than a tunnel cake is one that is full of Halloween colors! This is one of my favorite recipes.
Brownie Bottom Halloween Cupcakes by Persnickety Plates: Cupcakes are good, but brownie bottom cupcakes are even better. These are the perfect brownies for a fun Halloween party!
Halloween Haystacks only have 4 ingredients! Melt everything down in the slow cooker, scoop it out, then top with fun Halloween sprinkles. So easy!
Halloween Pretzel Rods are another easy, no-bake Halloween treat. The kids love helping with the dipping & sprinkling of these.
Mummy Fudge can be made on the stovetop or in the microwave!
Peanut Butter Skull Cookies by Persnickety Plates: If you want a more spooky Halloween dessert recipe, these skull cookies are perfect! A little spooky, a little festive, and a lot of sweet flavor.
Red Velvet "Raw Meat" Rice Krispies by Persnickety Plates: You thought it was raw hamburger meat, didn't ya?
Peanut Butter Spider Cookies by Mommy Musings: You can never have enough peanut butter cookies, so why not add some spiders to the top? Kids will especially love these.
A sweet & salty mix in this Monster Munch Popcorn!
Halloween Whoopie Pies by Tara Teaspoon: Whoopie pies are some of the most undervalued desserts, if you ask me. And these look so festive and fun! How can you possibly say no?
Candy Corn Fudge by Totally the Bomb: This candy corn fudge is pure sweet goodness wrapped in perfection. So sweet, so delicious, and perfect for Halloween.
Ghost Cupcakes by Cookie Dough and Oven Mitt: How cute are these cupcakes? They're as delicious as they look and really add a fun Halloween festive vibe to the table.
PEEPS Ghost Brownies by Cincy Shopper: Another fun recipe we really love is these peeps brownies. That cute little ghost on the brownie really adds to it!
Skull Tombstone Treats by the Baking Chocolatess: These treats would go perfect at a spooky Halloween party! Skulls and tombstones on a rice krispy? Yes please!
White Chocolate Skulls by Mom Foodie: These are simple, yet delicious. The white chocolate skulls are filled with "brains" making them even more fun.
Jack-o-Lantern Sugar Cookies by Sugar, Spice, and Glitter: Sugar cookies are such a fun option as you can do so many things with them. Like decorate jack-o-lanterns! Perfect for a classroom Halloween party.
Monster Rice Krispie Treats by Must Have Mom: These monster treats are part spooky and part fun. Full of sweet flavor and the perfect addition to a classroom party!
Eyeball Buckeyes by Big Bears Wife: It wouldn't be a Halloween dessert recipe list without at least one eyeball recipe, now would it? These buckeyes are so sweet and yummy, too!
Zombie Finger Treats by Recipes from a Pantry: Now these are the ultimate spooky recipe. Complete a spooky party with these zombie fingers! Perfect if you have any vegan friends joining you, too.
Zombie Brain Jello Dessert by Nerdy Mamma: How spooky and cool is this jello dessert? If you're gearing towards a zombie themed party, this is a MUST!! This is one of my favorite recipes on this list.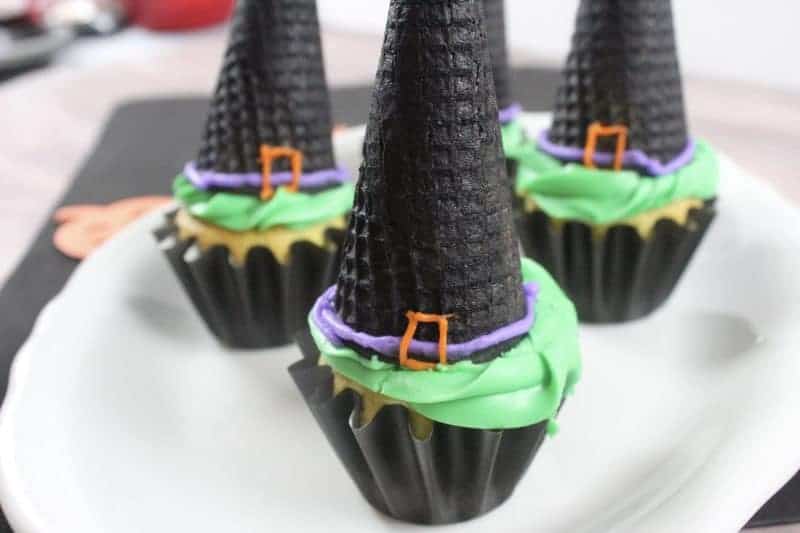 Witch Hat Cupcakes by Crayons and Cravings: If you have a little witch in training, you need to make these! They won't last long though, so you might want to double it for good measure.
Halloween Cake Balls by My Heavenly Recipes: This is a more simple recipe but great for classroom parties or even just at home when you want something easy.
Monster Fudge by 4 Sons R' Us: How fun is this monster fudge recipe? It's perfect for Halloween and so sweet, rich, and delicious.
Bat Oreos by Love to be in the Kitchen: I love that you can make so many cool treats from oreos. These bat oreos come out so cute and work great at parties! Or even if you want to surprise the kids in their lunchbox. Or keep them to yourself. It's really up to you!
Macaron Bats Recipe by This Silly Girl's Kitchen: Speaking of cute bat dessert recipes… why not some macarons? So good, so festive, and a must bake for sure!
Monster Cookies by Powered by Mom: Monster. Themed. Cookies. Do we need to say more?
Halloween Oreo Bark by Gluesticks: Candy bark is one of life's greatest pleasures. This recipe in particular is so festive, colorful, and fun! I don't think you'll want to share this one, though.
Kit Kat Halloween Cake by Mommy Musings: This takes a bit more work but is also so much fun for Halloween. I could stare at this one all day!
Frankenstein Cake Pops by Ideas for the Home by Kenarry: I couldn't leave this list without some frankenstein recipes! These cake pops are one part delicious and eighty parts fun and festive. Another great addition to a Halloween party!
Frankenstein Mini Cheesecakes by Homemade Interest: If you love frankenstein, these cheesecakes are a must bake. Cheesecake in any form is so sweet and delicious… but decorated for Halloween? One more please! Let me take them all.
Frankenstein Poop Emoji Cupcakes by Mommyhood Life: I laughed and laughed some more when I first saw this. I knew I had to try them out! And boy was I not disappointed at all. You're sure to give your guests a giggle with this one!!
Oreo Mummy Pops by Suburban Simplicity: Oreos that look like mummys anyone? Easy to make and fun to eat!
Mummy Rice Krispies Treats by Crayons and Cravings: Speaking of mummys… why not some rice krispie treats? Such a fun way to get in the spirit of Halloween.
Halloween Candy Cookie Pizza by Our Kid Things: Last but not least, a candy cookie pizza. You know you've always wanted to try one and Halloween is the perfect time to do so!